A WITS UNIVERSITY student was fired and blacklisted by one of South Africa's largest advertising and marketing agencies, after a group of people complained about comments she had made on Twitter about South Africa's racial history.
Second-year drama student, Ulemu Moyo, was fired by The Creative Council, a promotions company with which she had signed a contract on September 21, to do promotional gigs, including promoting the new Samsung Note 8.
Moyo wrote on Twitter on September 25, that, "It will always be a race issue as long as our forefathers' cries remain in the soil of a country that was built on exploitation of black people." She continued that, "And little by little, through the cracks in our country, privilege and injustice will seep through. If the foundation is shaky so is the house."
The 19-year-old told Wits Vuvuzela that she received a barrage of hostile comments from people who disagreed with her comments. "I started having comments in my mentions from a lot of troll accounts saying stuff like 'You are malnourished', 'Stop smoking ARVs'… a lot of rude comments," she said.
A fake account with my name and picture and racists in my mentions. They called me malnourished and said I must stop smoking ARVS.

— agape ❤ (@ulemu_moyo) September 25, 2017
Moyo later responded to the comments and tweeted that, "I'm really. Really. Really tired of white people". Moyo said that after that tweet, one of the people who trolled her tagged Samsung Mobile in the tweet.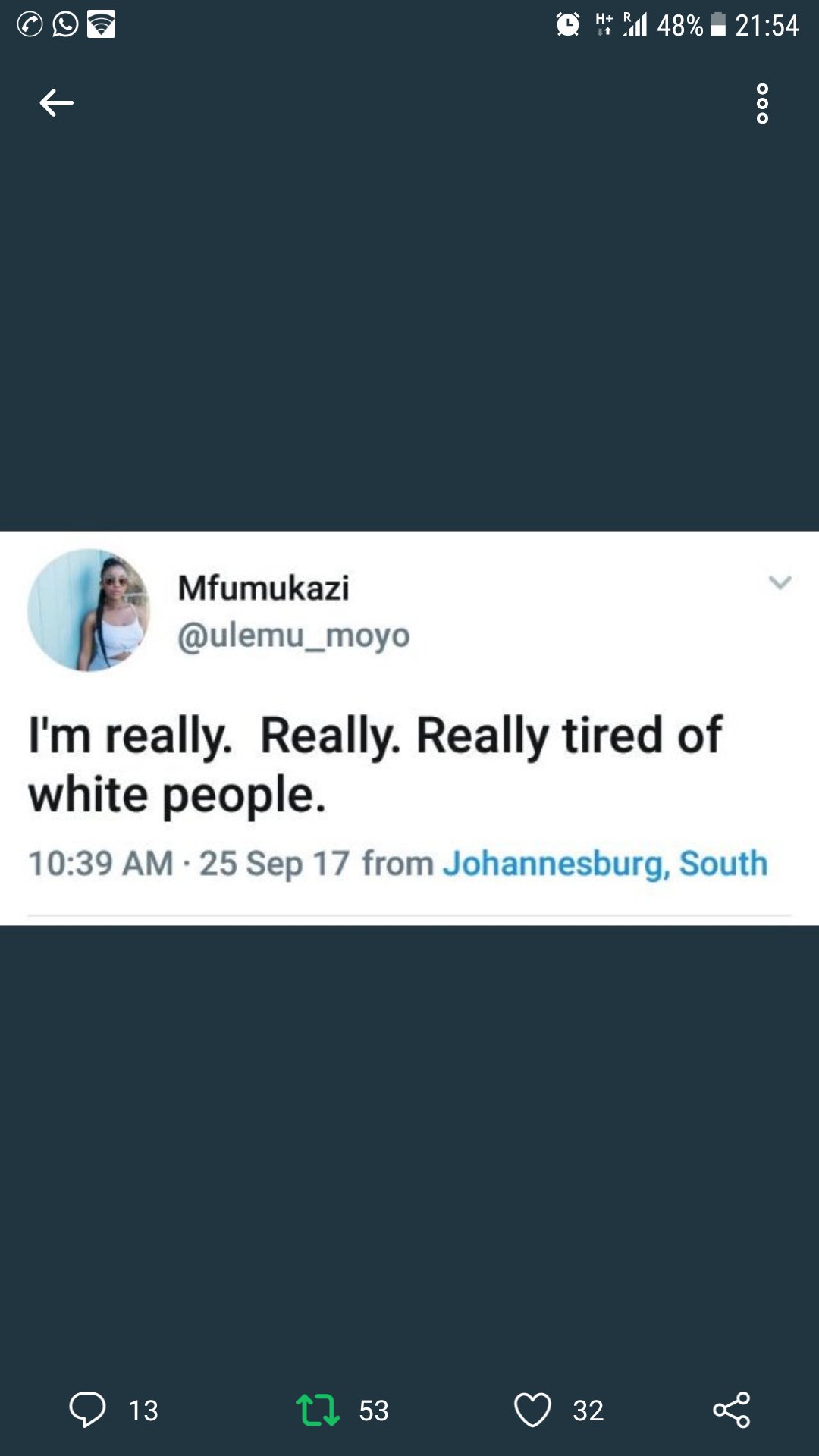 Samsung Mobile South Africa released a statement on Twitter on September 26, condemning Moyo's comments. In the statement the company wrote that, "Samsung South Africa would like to express that it had no past or current affiliation with Moyo as an official ambassador." The company added that, "Integrity, co-prosperity and diversity are the cornerstones of our generation and we do not tolerate any form of discrimination."
The 19-year-old said that she contacted the promotions company and informed them about her tweets and the hostile reaction she had received. "I went to the offices the following day to talk about the matter. One thing they asked is 'Why did you tweet that you hate white people?' I never said I hated white people, I said I am tired of white people. It is not equivalent to hate," Moyo said.
Moyo said that The Creative Council told her that she had placed the agency in jeopardy with Samsung who is their client. "They said 'We have to cancel you from our books.' I said OK, I understand. I never expected them to keep me. They told me I will never work for them," said Moyo.
She added that she is not blaming the promotions company for firing her. "Samsung [is] their client, I can't blame them."
Facilitator at Creative Council, Sarah Ann Digue, told Wits Vuvuzela that the company had conducted an internal investigation, and had decided to blacklist Moyo. "She will not be working at any of our campaigns," she said.
Digue said that the company is aware that Moyo did not say that she hated white people. "We are aware of that. It still does not make the statement better."
RELATED ARTICLES: Wits Vuvuzela, Racism, is it getting under our skin?, mARCH 17, 2016.